Skip Navigation
Website Accessibility
Tawnee Kinnebrew (she/her)
Owner
Tawnee Kinnebrew is the owner and founder of Wyldwood Creative. She opened Wyldwood Creative to share her love of making with the community. She is a maker of all things and has at least 10 WIPs at any time. When she's not at work she loves hanging out with her husband Taylor and their pack of dogs, Zeus, Gus, and Willow. Oh and a fat ass cat named Stella. She loves living in the PNW, a good round of pub trivia, and all things trashy TV. She has a passion for teaching and keeps things light and fun in her classes. Owning Wyldwood is a dream come true and she is so thankful she gets to do what she loves every day.
Maggie Franquemont (she/her)
Online Fulfillment Specialist
Maggie is a Renton local, who simply hung around the shop until Tawnee offered her a job. She finds cutting fabric and helping folks with their projects soothing and fun. Maggie is what Mr. Bingly would call "accomplished" - she knits, crochets, sews, quilts, embroiders, paints, etc. etc. She unfortunately does not have a thorough understanding of the modern languages and therefore Mr. Darcy would find the term too liberally applied. When she isn't in the crafting room she likes to watch PBS, bake, and play video games. She also enjoys wandering around the Pacific Northwest doing a whole variety of outdoor activities and photographing the flora and fauna. Her favorite dinosaur is the stegosaurus.
Remy Nixon (they/them)
Website and Communications
Remy is Wyldwood's resident computer-tinker-er and communications person! They love being able to put their background in technology and their love of quilting to use for a business whos "passion for being good stewards of the planet and the community matches my own". They live in Seattle with his husband and two small children. When they're not figuring out how to hack our own website to make sliding-scale classes work, you can find them slowly making a single quilt, throwing pillows at their kids, drinking coffee at their neighborhood cafe, doing puzzles (jigsaw, logic, any kind of puzzle!), or violently killing invasive blackberry plants with Seattle Green Partnership. They're looking forward to helping our store and our sewing community grow and evolve as a space that feels safe and is equitable for everyone!
Kael Zayas (she/her)
Instructor
Kael has been interested in sewing since she could hold a needle and thread! She's moved on from using a hotel sewing kit to turn t-shirt scraps into doll dresses, but only in scale: one of her current favorite projects is upcycling old clothing into new creations for her two young children. When not at Wyldwood, you can find Kael serving local families as a doula or talking to her beloved flock of backyard chickens (probably that second one). If she never had to sew another face mask again, she'd be fine.

Areas of interest: garment sewing, Língit moccasins, hand quilting, knitting, saying "I could make that!"*
*50/50 success rate

Would love to learn: Língit button blankets & regalia, the finer points of tailoring
Jaynie Healy (she/her)
Instructor
Jaynie is a self-taught sewist, crafter, and artist. Her grandfather was tailor for Sears-Roebuck in the 1960s and even though he didn't teach her how to sew, two of her most treasured possessions connect her to his work: a classic formica table that he used as a sewing-table and a beautifully tailored tweed swing coat that her grandmother wore. Jaynie has been active in the Seattle sewing community for many years: working in fabric-retail, teaching sewing classes, making her own clothes, doing production-sewing, and occasionally sewing costumes for local performers (including a couple of famous drag queens). She believes that creative acts have the power to bring peace and healing to everyone, regardless of skill or experience. She is currently in training to become an Art Therapist at Antioch University Seattle. When she's not engaged in crafts, art, or school, you'll find her reading, watching classic films, swimming, cooking, or drinking fancy cocktails. She lives in Bremerton, WA with her partner and beloved dog, Smash.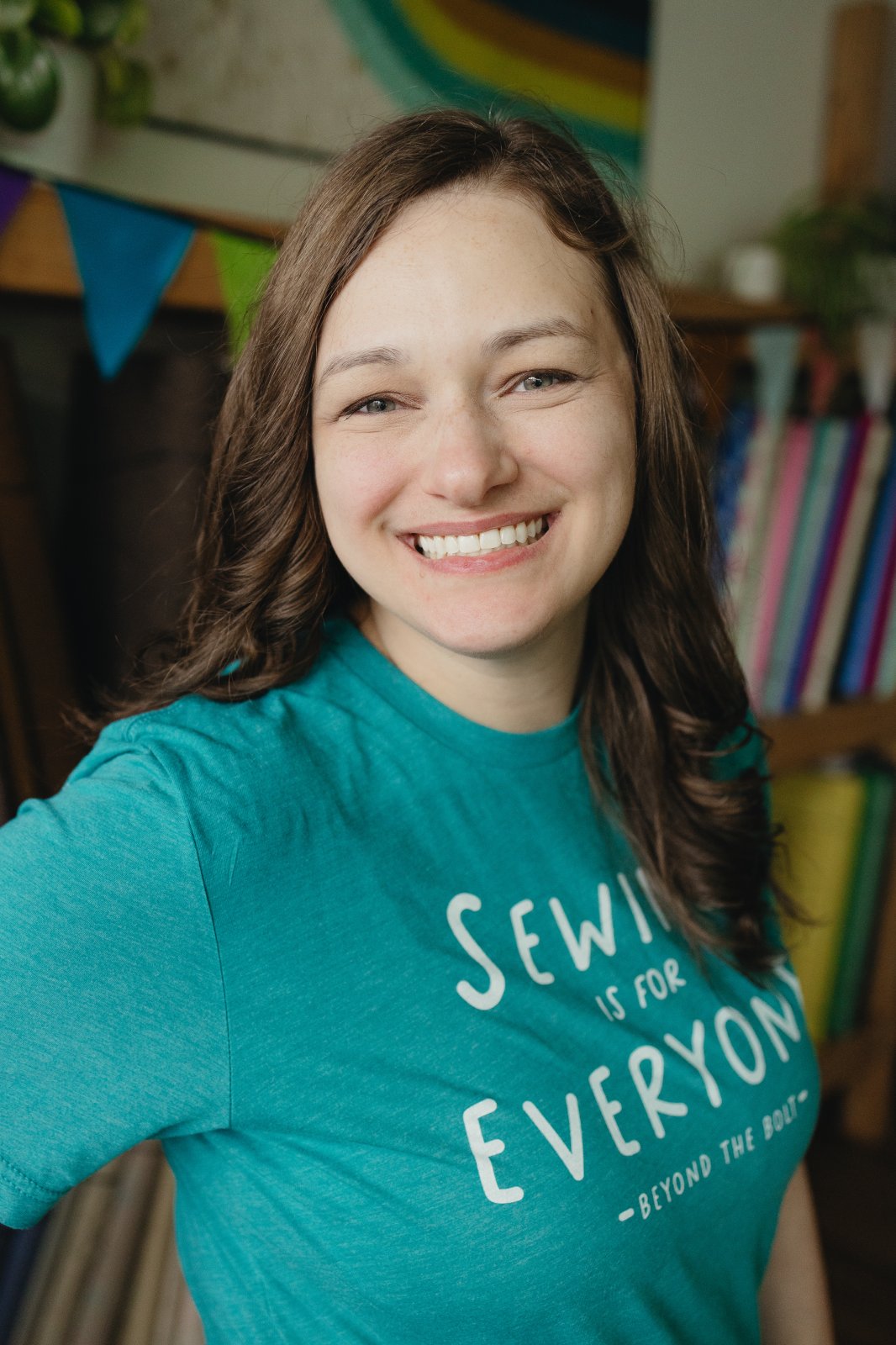 Leah Traxel (she/her)
Shop Assistant
How long have you been sewing Leah?
Hmm... about ten years.
What's your favorite part of making?
Definetly picking out fabric for a new project!
How many projects do you think you've completed?
Lol! Not sure, but definetly not as many as I've started
Hah! Fair enough. What craft or hobby do you want to learn more about?
Embroidery
What do you do when you're NOT making things?
Watching cooking/reality TV shows and reading romance novels
Okay, now for the most important question: What is your favorite dinosaur?
Velociraptors! Did you know they had feathers?
Olivia Alaniz (she/her)
Social Media and Newsletters
Hi! I'm Olivia! I live in TX with my BF, two cats - Letty and Nate, and my border collie - Apollo. It sometimes feels like I live in a zoo and I'm slowly becoming one of them, but that's okay. They are cute so it makes it all okay!
How long have you been sewing Olivia?
I've been a self-taught quilter since 2018 and have had a splash of bag making throughout.
What's your favorite part of making?
The prep work (specifically picking fabrics for quilts) and the feeling of accomplishment at the end.
Ooh yes. How many projects do you think you've completed?
50+ with a growing pile of unfinished projects sitting in the scary corner.
I feel that! Fair enough. What craft or hobby do you want to learn more about?
Garment making! I've always wanted to make my own clothes, but I get so nervous about messing it all up.
What do you do when you're NOT making things?
I love reading (favorite genre is mystery/thriller) and tending to my indoor plants. I constantly have music playing or an audiobook going.
Okay, now for the most important question: What is your favorite dinosaur?
Easy: Stegosaurus.
Ashleigh Vessey (she/her)
Scholarship

Coordinator
Ashleigh is the newest member of Wyldwood, but is no stranger to the shop. Being a lifelong crafter of all kinds, Ashleigh set out to learn to quilt when Wyldwood moved into her neighborhood a couple years ago. Ashleigh's mom raised her to always ask if she could "make it herself" before buying elsewhere, including gaudy dresses from every wedding or school dance she attended (Ever had flowers hot glued to a dress while you're wearing it? Ashleigh has). Ashleigh brings to Wyldwood Creative her expertise with all things logistics and operations, with background in event planning, NFL games, and non-profit fundraisers. When not in her crafting room, she spends time with her husband and two dogs, rolling critical failures while playing D&D, and being really, genetically bad at karaoke. Ashleigh's motto is "Hoarding craft supplies and using them are two separate hobbies".
Danielle Jennè (she/her)
Instructor
How long have you been sewing Danielle?
Ooh, about 20 years! I sew garments, costumes, occasion, and do some mending, fitting/alterations, and some home decor.
What's your favorite part of making?
I love making an idea a tangible reality and getting to enjoy it every time its worn/used.
How many projects do you think you've completed?
Oh wow... I'd say dozens in the last 5 years.
Nice! What craft or hobby do you want to learn more about?
Hah! Well, besides all of them, I'd love to try out spinning and weaving.
What do you do when you're NOT making things?
Ooh, for indoorsy stuff: I like cooking/baking (especially when I have people to share it with), chill board games, puzzles, and yoga.
Then for outdoorsy stuff: I love weekend trips and hiking in the summer, thrifting, concerts, trying new restaurants.
Okay, now for the most important question: What is your favorite dinosaur?
Lol! Okay how about... stegosaurus.
Rae Parks (she/her)
Instructor
Rae first learned to sew in high school - her aunt spent a week giving her an intensive sewing crash course and she emerged with her first dresses and shirts (and one hilariously disastrous pair of jeans for the failures-we-learned-from pile). After a long break from sewing, she picked it back up in the early days of the pandemic. Since then it's been a source of joy and empowerment, a personal protest against the environmental impacts and labor exploitation of fast fashion, and a way to connect with the amazing sewing community. She is thrilled to share her love of sewing with others in the Wyldwood community! Rae is also an enthusiastic hiker and solo backpacker, a moderately successful plant parent, and a lover of sci-fi TV. Her professional background is in education and her 'day job' is in operations with a youth-serving Seattle nonprofit.
Steph Greear (she/her)
Instructor
Steph is a collector of hobbies and hoarder of books. Her best friend convinced her to learn to sew almost a decade ago so they could cosplay together from their favorite videogames, books, podcasts. Since then, she started quilting to emulate the well-loved pieces her grandmother made for the family and making her own garments that fit better and last longer than ones you could buy. Steph aspires to take more formal fashion design courses to learn how to design her own patterns to make accessible clothing options. And if she can ever find the time, she would love to do more historical garment making instead of just reading about it.
She lives in Sammamish with her partner and a yard full of gardening mishaps.