Choose Your Own Adventure: HST with Charm Packs!
I'm so excited about the Ruby Star Society Curio fabric collection by Melody Miller! I'm obsessed with so many of the patterns and colors, they really knocked it out of the park with this one; the butterflies, the goldfish, those adorable shiny flowers! And a cute lil charm pack has all of it! Time to make a cute quilt!
I don't know about you, but I tend to gravitate towards a gradient when sewing charm pack quilts. I think they're a great way to show off colors and patterns in a cohesive and straightforward way. It's got a touch of chaos that can come from a scrappy style quilt, but the unity comes through and connects it together since it's all from the same family. This collection has so many delightful details and tones, I really wanted to let them shine.
One of the first things I do to set up a gradient is lay out the squares in order like the preview image from the manufacturer. They usually flow through a simple light to dark scale, so following this helps me get to a good baseline.

The simplest layout that I find to be a good starting point from here is creating diagonal stripes with the charm pack squares and companion tones. I thought that with this collection, it looked better to have the lighter tones a little closer to the center instead of at the top since it had both blues and pinks to connect with. Putting the squares in this order helped me get the tones in a nice arrangement, which helped since I wanted something a little more playful than some straight lines (this is so cute already though).

From here I tried some pinwheels simply by rotating some of the squares and rearranging a few to get the colors right. This is super fun, but felt a little chaotic.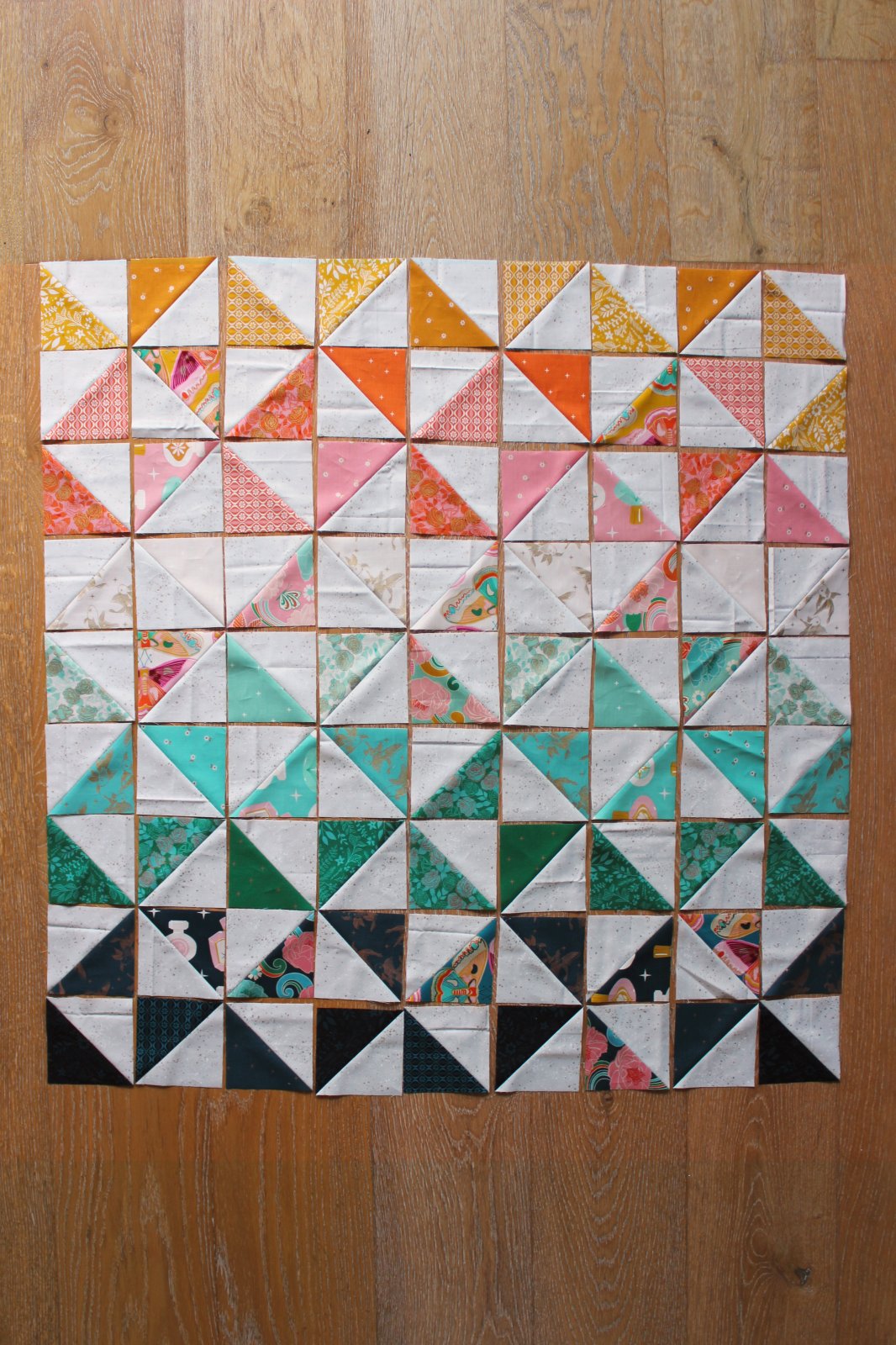 So, I tried some off-set pinwheels, which led to some cool shapes but my eyes kept getting confused and it felt even more chaotic! I'm honestly scared to look at this photo too closely because I'm convinced that there is probably a square or two facing the wrong direction (please do not tell me if you find any!!). This layout took me the longest and I kept getting disoriented, which is both hilarious and embarrassing, and I definitely recommend giving it a go because who doesn't love a humbling challenge hahaha!

Next, I tried some diamonds, and I think it's super cute with these prints! This was much closer to the vibe I wanted but I fancied something a little more balanced (and honestly I wanted to keep playing around since I was having so much fun).

I liked those diamonds so much, I thought some concentric diamonds would be cool. I tried it twice! With both light and dark colors as the center point, because who doesn't love setting themselves up for a tough decision!

I looooved the darker center design so much, this was the one! But I kept holding off on sewing it. I really wanted to have a more centered diamond, but that isn't possible with a 9x9 square quilt. So I tried one more thing, went back to basics and did one final layout.
Aaaaaaaand then I had to make it immediately because look at how cute it is!

Every square facing the same way hahaha! It's so simple, but I think it's so perfect for this collection and really lets the prints and patterns shine. I picked some orange thread that matched the orange blocks and contrasted nicely with the blues and greens and my teal border pieces. It feels magical and whimsical and I love it so much!
The options are truly endless with HST Charm Pack quilts! These are just a few layouts that I come back to, sometimes for a final arrangement, and sometimes just as a starting point. I'm so excited to see everyone's projects with these fabrics, they're so creative and fun!
Shop all Charm Packs
Shop all of Curio
Curio Inspiration
February 28, 2023
We've been experimenting with Melody Miller's newest quilting fabric collection - Curio! Come see what we've made and get inspired.
Read more